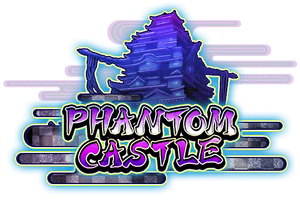 Introduction
Phantom Castle is a player vs player game mode in Naruto Shippuden: Ultimate Ninja Blazing which is only available at specific periods of time (usually for about a week). Unlike most game modes in that caliber, the opponents you fight against are AI-controlled rather than being controlled by another human player.
Mechanics
Phantom Castle offers a few mechanics that are not available during Missions:
Team Setup
You can only form a team up to three characters, meaning that Buddy Skills won't be available for any character.
There is no Team Cost limit when building a team, meaning that you can select any character you desire.
Stamina
Phantom Castle has its own stamina system, giving you up to ten stamina points at a time with each battle using up one point. An empty stamina point will be refilled after thirty minutes has passed and it's also possible to use a Ninja Pearl to refill your Phantom Castle stamina to the max.
Winning and Losing
In a Phantom Castle Battle, the main goal is to reduce your opponent's total health to 0. There's a 16 turn limit each map and if neither teams' health is reduced to 0 with the turn limit, the winner will be the team with the highest health remaining.
Rankings
Rankings are based on the total number of points you have accumulated. The kind of rewards you receive at the end of a Phantom Castle season will based on your own ranking (players having the same amount of points will get the same ranking). Note that the rankings will not be displayed instantly and will take a few minutes to update the rankings at different intervals.
Phantom Castle History
Phantom Castle #
Run Date
Reward Character(s)
Phantom Castle #1
July 28, 2016-Aug. 4, 2016
July 28, 2016-Aug. 4, 2016
Phantom Castle #2
Sept. 28, 2016-Oct. 5, 2016
Sept. 8, 2016-Sept. 15, 2016
Phantom Castle #3
Nov. 16, 2016-Nov. 24, 2016
Oct. 5, 2016-Oct. 14, 2016
Phantom Castle #4
Dec. 28, 2016-Jan. 3, 2017
Nov. 9, 2016-Nov. 16, 2016
Phantom Castle #5
Feb. 7, 2017-Feb. 14, 2017
Dec. 28, 2016-Jan. 3, 2017
Phantom Castle #6
Mar. 15, 2017-Mar. 21, 2017
Jan. 31, 2017-Feb. 7, 2017
Phantom Castle #7
Apr. 18, 2017-Apr. 24, 2017
Mar. 7, 2017-Mar. 15, 2017
Phantom Castle #8
May 23, 2017-May 29, 2017
Apr. 11, 2017-Apr. 18, 2017
Phantom Castle #9
June 20, 2017-June 26, 2017
May 16, 2017-May 23, 2017
Phantom Castle #10
July 18, 2017-July 24, 2017
June 12, 2017-June 19, 2017
Phantom Castle #11
Aug. 22, 2017-Aug. 28, 2017
June 11, 2017-June 17, 2017
Phantom Castle #12
Sept. 19, 2017-Sept. 25, 2017
Aug. 15, 2017-Aug. 21, 2017
Phantom Castle #13
Oct. 31, 2017-Nov. 6, 2017
Sept. 12, 2017-Sept. 18, 2017
Phantom Castle #14
Nov. 28, 2017-Dec. 4, 2017
Oct. 24, 2017-Sept. 30, 2017
Phantom Castle #15
Dec. 19, 2017-Dec. 25, 2017
Nov. 21, 2017-Nov. 27, 2017
Phantom Castle #16
Jan. 9, 2018-Jan. 15, 2018
Dec. 19, 2017-Dec. 25, 2017
Phantom Castle #17
Jan. 30, 2018-Feb. 5, 2018
Jan. 23, 2018-Jan. 29, 2018
Phantom Castle #18
Feb. 27, 2018-Mar. 5, 2018
Feb. 20, 2018-Feb. 26, 2018
Phantom Castle #19
Mar. 27, 2018-Apr. 2, 2018
Mar. 20, 2018-Mar. 26, 2018
Phantom Castle #20
Apr. 24, 2018-Apr. 30, 2018
Apr. 17, 2018-Apr. 23, 2018
Phantom Castle #21
May 29, 2018-June 04, 2018
May 22, 2018-May 28, 2018
Phantom Castle #22
June 26, 2018-July 2, 2018
June 19, 2018-June 25, 2018
Phantom Castle #23
July 31, 2018-Aug. 6, 2018
July 24, 2018-July 30, 2018
Phantom Castle #24
Aug. 21, 2018-Aug. 27, 2018
Aug. 14, 2018-Aug. 20, 2018
Phantom Castle #25
Sept. 18, 2018-Sept. 24, 2018
Sept. 11, 2018-Sept. 17, 2018
Phantom Castle #26
Oct. 23, 2018-Oct. 29, 2018
Oct. 16, 2018-Oct. 22, 2018
Phantom Castle #27
Nov. 20, 2018-Nov. 26, 2018
Nov. 16, 2018-Nov. 19, 2018
Phantom Castle #28
Dec. 11, 2018-Dec. 17, 2018
Dec. 4, 2018-Dec. 10, 2018
Phantom Castle #29
Jan. 22, 2019-Jan. 28, 2019
Jan. 15, 2019-Jan. 21, 2019
Phantom Castle #30
Feb. 19, 2019-Feb. 25, 2019
Feb. 13, 2019-Feb. 18, 2019
Phantom Castle #31
Mar. 26, 2019-Apr. 1, 2019
Mar. 19, 2019-Mar. 25, 2019
Phantom Castle #32
June 4, 2019-June 10, 2019
May 28, 2019-June 3, 2019
Phantom Castle #33
July 2, 2019-July 8, 2019
June 25, 2019-July 1, 2019
Phantom Castle #34
July 30, 2019-August 5, 2019
July 23, 2019-July 29, 2019
Phantom Castle #35
Sept. 10, 2019-Sept. 16, 2019
Sept. 3, 2019-Sept. 9, 2019
Phantom Castle #36
Oct. 8, 2019-Oct. 14, 2019
Oct. 2, 2019-Oct. 7, 2019
Phantom Castle #37
Oct. 29, 2019-Nov. 4, 2019
Oct. 23, 2019-Oct. 28, 2019
Phantom Castle #38
Dec. 3, 2019-Dec. 9, 2019
Nov. 26, 2019-Dec. 2, 2019
Phantom Castle #39
Feb. 12, 2020-Feb. 17, 2020
Feb. 4, 2020-Feb. 10, 2020
Phantom Castle #40
Mar. 10, 2020-Mar. 16, 2020
Mar. 3, 2020-Mar. 9, 2020
Phantom Castle #41
Mar. 31, 2020-Apr. 6, 2020
Mar. 24, 2020-Mar. 30, 2020
Phantom Castle #42
June 2, 2020-June 8, 2020 \
Phantom Castle #43
TBA
June 30, 2020-July 6, 2020